On Friday I attended a briefing for Internet Retailing's recently published Returns Report. This event was hosted by the report's editor, with presentations from Fit.me, Amethyst and Collect+.
As customer returns traditionally hasn't been a popular topic for seminars, I was more than a little surprised to find that it was a full house! However, the turnout did reinforce the report's findings that for 40% of retailers, returns is a top strategic priority for them.
From the briefing and the lengthy panel Q&A that followed, there were several key takeaways on customer returns:
Set customer expectations before they buy
Firstly, the product that arrives with the customer should be what they are expecting. Online product details and description should be as clear as possible, with a range of supporting information to help the customer to gauge suitability or fit, whether through pictures, video, customer reviews or FAQs – all of which will help the customer to choose right, first time.
Secondly, clearly set out the return options and returns process as part of the overall purchasing experience. Reduce the customer anxiety about how they can return a product and when they can expect a refund.
A bad customer returns experience is bad marketing
Collect+ presented research which noted that 58% of customers will not buy again from a retailer where they have had a poor returns experience. The knock-on effect is not just limited to a lost customer. It also includes the dissatisfied customer telling their family, friends and – via social media – the rest of the world about their experience. Plus, possibly posting negative reviews for the product on your site and comments on internet forums.
An interesting analogy that was presented is that a customer can go into a clothing store, try on several outfits at no cost to them before purchasing the two items that they are satisfied with. The online process should seek to support the customer in doing the same thing, but in their own home.
A higher returns rate will actually increase sales
While this statement seems counterintuitive, a good returns process will increase customer's confidence to buy in the first place. And it was noted that the easier that it is to return, people might return more often, but they will also buy more overall  – up to 3 times more.
Another observation was that when executed well, returns can become a profit centre. Although this statement was somewhat opaque, it did not diminish that an improved returns process will lead to happier customers, and therefore increased sales. As well as reducing customer service costs, and also a quicker turnaround to get returned products back on sale.
After sales customer care can be vital to keeping a product sold
Communication, customer services and engagement are all key to making sure that a potential return is averted. A customer may want to return a product because of a lack of understanding of how the product works.  An after sales approach that takes the time to explain the product to the customer may go along way to ensuring that a doubtful customer retains their product, by providing support such as through online guides, online video tutorials, customer forums, FAQs and social media.
Make the returns process simple for the customer
Retailers can only benefit if they make the returns process simple for the customer, by achieving lower costs in returns processing and handling, and a more satisfied customer overall.
Very.co.uk was noted as a retailer who has a very clear returns process, in three steps: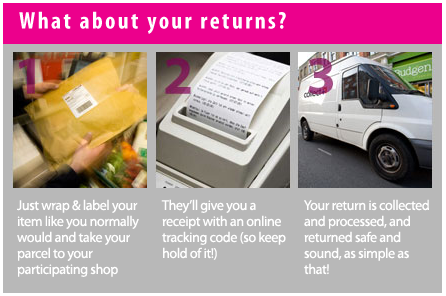 Refund promptly
Receiving their refund is the most important milestone in the process for the customer. Once product has left the customer's hands, they have effectively done their bit (by returning the item), while the retailer still has the customer's money. Tell the customer when they can expect a refund and send an acknowledgment when you have processed it.
These were the key findings that I took away from this well run and highly informative Internet Retailing event.
If you know others who might be interested in this topic, then please feel free to share it!
---