Your business may be in the process of selecting a new carrier or courier, or implementing a new carrier service. Before signing on the dotted line, there are a number of things to check with your carrier that will reduce the overhead of carrier management, helping to save your business time, money and reduce calls to customer services.
What is the carrier's ideal parcel traffic?
Every carrier has a profile of what is the ideal size, shape, weight and delivery address of parcel that best suits their carrier network. And parcels that fit within this profile are the most economic for them to carry.
Any parcel that sits outside the view of the 'ideal parcel' is likely to be more difficult for the carrier to sort, handle, carry and deliver. As a result, these parcels may be more likely to be delivered late, or potentially damaged or lost in the course of delivery. Accordingly, it will cost the carrier more to handle these parcels and so they generally include the additional cost for these types of parcel into the overall contract for service. These costs are either implicit, via a higher per parcel carrier charge, or explicit, by imposing surcharges on parcels that do not conform to their guidelines.
Find out from your carrier how your parcels fit in with their ideal parcel profile. If some parcels fit outside the ideal, then agree with your carrier as to how they can best handle them. Or alternatively, consider using another carrier that is better able to to deliver these parcels by using a multi-carrier strategy.
Review the sortation and parcel handling processes
The majority of small parcel carriers utilise a 'hub and spoke network', where parcels are collected from a despatching warehouse, then transported to a local depot to be trunked into a central hub to be sorted for transport back to the depot nearest to the delivery address, before being sorted and loaded onto smaller vehicles  for the 'last mile' of delivery. Although this process is economically efficient,  it does result in much handling of the parcel between despatch and delivery. This has implications for your product packaging strategy.
Ask for a tour of the carrier's parcel sortation centre or network hub so you can see for yourself what the handling processes are and what automation of parcel movement is in place (e.g. conveyors, vs. rollers, vs. by hand).
This will help you to decide what packaging is the most appropriate to protect the parcels during the delivery process.
Walkthrough the end-to-end journey from
your

customer service's perspective

Once the parcel has been shipped from the warehouse, you are effectively 'flying on instruments' – i.e. relying on the parcel status tracking information that the carrier captures during the journey and that which is stored in their systems. With your carrier representative, map out the  journey from the time that the carrier gets to know about your parcel through to successful delivery to your customer. This is central to your carrier management approach.

Identify any delivery exceptions that may occur, e.g. delayed, can't find delivery address, lost  etc, and agree how the carrier will notify your business if these issues occur. For example, via a daily summary report sent by email or an alert  by parcel.

Once you have this information, you will be able to identify what information the carrier will send to your own systems and to your customer services, and be able to put the appropriate operations procedures to handle them.
How does your carrier handle the last mile to delivery?
Carriers have come along way in the last few years. There is now a realisation that their customers are not just the retailer (who is paying for the service), but also the retailer's own end customer. As such there has been much innovation on servicing the last mile to the customer.
Find out what emails or SMS text messages can be issued by the retailer to the customer. Many will send an "out for delivery" message, or even (in the case of DPD to name one) will send a message indicting the time-slot when the parcel will arrive with an option for the customer to change it. Royal Mail sends a message advising of impending delivery and then also sends an SMS to confirm delivery (see below).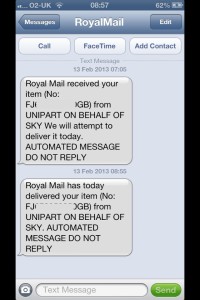 With these messages, there maybe options as to what can be configured, e.g. your business name, the customer facing message.
When the carrier attempts delivery, there maybe three possible results, and implications:
Successful delivery to the customer's hands: What information does the carrier record at this point? Signature? GPS coordinates? How will your customer services see them?
Customer not home, but parcel left in a safe place: What does the carrier consider a 'safe place'? How will they communicate it to the customer? And communicate it to the retailer that they have done this?
Carded delivery, for another delivery attempt: How will they communicate it to the customer? And communicate it to the retailer that they have done this? How is another delivery attempt arranged?
How are undelivered (and undeliverable) parcels returned back by the carrier?
Not all parcels can be successfully delivered. They may become damaged enroute to the customer, lost then found, refused by customer, not delivered due to incorrect address etc, and so must be returned to sender (or RTS) back to the despatch point or designated returns address.
Agree with the carrier what the returns address is to be and also the time frame for which these types of parcels will be returned.  Note that this could be a period of days or weeks (depending on carrier) and awaiting an item's return should not delay a customer refund.
If you know others who might be interested in this topic, then please feel free to share it!
---