eCommPoint is reviewing various delivery services offered by carriers, fulfillment houses and other delivery solutions to assess how customer expectations are set and how the overall customer experience is managed throughout the journey from order to delivery. Today we are reviewing the Shutl delivery service, that offers same delivery in the UK and has recently also expanded into the US.  
Shutl is in fact not a carrier nor does it handle parcels in anyway. It is a software company that sits between a retailer and a pool of local couriers that are able to effect a delivery of a parcel at short notice and to a specified time slot. Retailers such as Argos, The Entertainer and Oasis use Shutl to offer a same day delivery option from their stores.
Setting customer expectations
I had been shopping on Argos and had just completed an online reservation for a fitness ball to pick-up from the store, when an overlay was presented advising that I could have it fetched for me.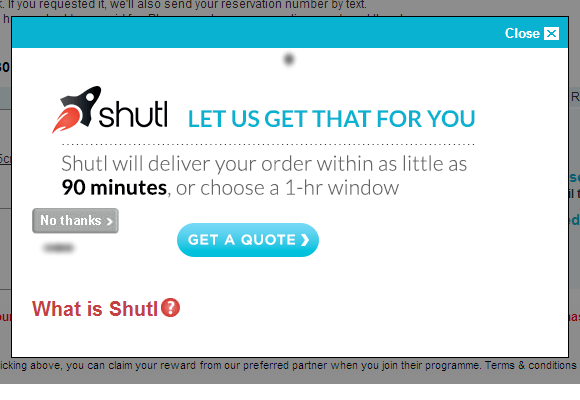 Clicking on 'Get a Quote' button took me through to the quote page which is actually first stage in selecting the delivery option and also placing the order with Argos.

The process is listed across the top of the page which follows my journey through to order confirmed. From this point, I am not in the Argos site per se but in an Argos/Shutl co-branded site (www.argosshutl.c0.uk) which is only accessible if one goes through the reservation process. This is merely an indication of how Shutl links into Argos rather than the only way that Shutl links into a retailer.
Selecting the delivery option
Shutl advertises two delivery options – 1. being deliver it Now (or at least within 90 minutes) and 2.  When? is for delivering within a specified time slot. This is how it is presented on screen for my address: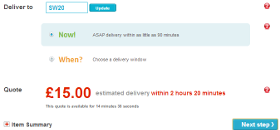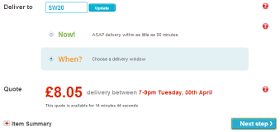 I chose an evening time slot of 7 – 9pm as I did not need the fitness ball immediately! Next I was asked for my delivery details, which was cleverly designed in two ways: 1. I could provide both the Recipient Details and also the Contact details for the item – very useful for surprise gifts; and 2. There as no duplication of information. The Recipient Details related to the the delivery address, and the Contact Details related to how to get in touch with the person (i.e. the orderer or perhaps the recipient). Nice touch.
Next is Payment page, capturing the payment details and the details of what is being purchased  i.e. the product and the Shutl delivery.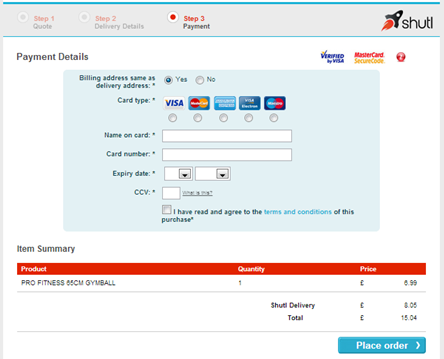 After providing the payment details and clicking Place Order, the order confirmation screen was presented.

Details of both the Shutl reference and the original Argos reference number is provided.
Customer communications during delivery
While awaiting delivery, I firstly got an email confirming receipt of the order and then a second to say that the delivery was on it's way.
There is also a Shutl dashboard for customers to view the progress of their order – if they need to.
At the doorstep
Right on time, my Argos product arrived. I say product, as it arrived 'as-is' and to my surprise, not packaged in any shape or form.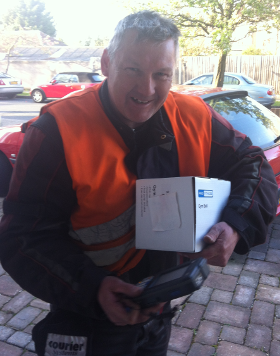 My final email from Shutl was to a post delivery follow up to ask for the all important feedback.
All in all, I thought the Shutl same delivery service was great.
It definitely has its place in a range of delivery options and for a shade over £8, for  delivery that I selected, it is a service I would use again, for those urgent items or when it is not worth my while going to the store to collect the reservation.  
If you know others who might be interested in this topic, then please feel free to share it!
---