Delivery options and charges are a major consideration for customers in their buying decision when shopping online.
While preparing our UK Online Retail Delivery Options Report 2013, we found that most retailers consistently and clearly presented their delivery proposition throughout the site, informing the customer of their delivery policies and presenting relevant information about delivery options and charges throughout the customer's journey to checkout.
From our research, here are 5 ways that you can use their methods to improve how you present your delivery offer online:
Headline your delivery offer on the Home Page
Many retailers prominently display their headline delivery offer on their Home Page or at the top of their Category Pages or Product Pages  reminding the customer of how soon they could get their order or how much they had to spend to get free delivery.

Make sure that the customer can click the headline to access detailed Delivery Information in your help pages so that your customer is not scrambling around to find this information later.
Ensure that each product page has the available delivery options and delivery charges
Regardless of your headline delivery offer, make sure that the relevant delivery options are presented for every product, along with an indication of the delivery charge, e.g.  "From x.xx".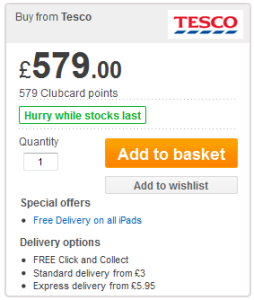 Indicate the expected delivery date to the customer before they buy
When the customer considers buying from you, they need to know when they might expect to receive delivery of the item.
And depending on the type of products you sell, you might inform them of one or more of the following:
Do you have it in stock? When can you despatch it? When can you deliver it?
The customer does not need to know the answers to all of these questions, but they must be assured that they will get the item when they want it. This is critical information particularly around specific event dates, such as Mother's Day, Father's Day, Halloween, and Christmas Day.

Inform customers of your cut-off time for accepting new orders that can meet the current earliest delivery time. This will help to set customer expectations about when the delivery will arrive,  and also incentivises the customer to act quickly to place an order before it is too late.
An order cut-off can either be presented as a time (e.g. Next's cut-off time is 10pm, see above) or with a countdown by when the order can be placed – see the image from Amazon below.

Present possible delivery options and charges in the Shopping Basket
As the customer shops, they will use their shopping basket, bag or cart as a means to review their planned order, including the cost of the delivery is and when they can expect to get it.
Make sure that the delivery speed and cost are clearly presented in the basket OR present clear guidelines as to how delivery is applied to a basket so that the customer can work it out themselves.
Below is an example of how not to do it. The customer is not provided with any information at any point in the shopping journey, until they reach Checkout.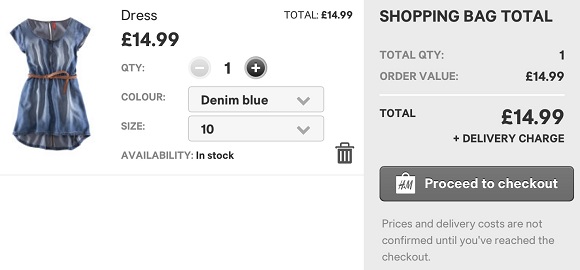 Delaying the presentation of delivery information in this way may cause the customer to either place the order early with a smaller order value or to abandon their basket altogether.
Make Delivery Information easy to find
The more clicks that it takes a customer to find the Delivery Information, the further they move away from the product page. Four ways to ensure Delivery Information works for you are:
Ensure that your headline delivery offer links to your Delivery Information or FAQs page.
Present your delivery options clearly and succinctly on the page so the customer can clearly review and compare them.
Make it easy for the shopper to get explanations of delivery policies from the Product Page without leaving the Product page. This can be achieved using overlays or expandable/collapsible display boxes.
Make Delivery Information a link on the footer of your website, so that it is independently accessible from every page.
Be consistent across the site and clearly explain your delivery services
Conflicting information about delivery charges, policies and delivery terminologies can make your delivery offer oconfusing to the customer and drive queries from customers.
Make sure that the delivery options and charges are consistently presented across all parts of your site, from Home Page to Product Page and to Checkout.
Also with industry specific terms, such as 'Standard' delivery and 'Click and Collect' make sure that these are explained clearly so that the customer understands what they mean.
In particular, 'Click and Collect' – used by many retailers, including Tesco, John Lewis and others – describes where an order is placed and paid for online, which is then later delivered to a store for customer pick-up. This is usually distinguished from other online services, such as in-store product reservation service.
However this is not always the case. For example, Toys'R'Us uses the term 'Click & Collect' but then qualifies it with a call to action of "Reserve Now".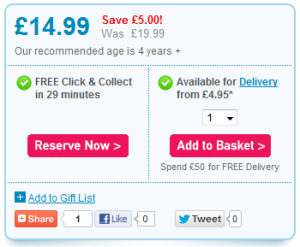 House of Fraser offers a Click & Collect style option, called 'Buy and Collect'. The name does clearly explain what the customer gets, i.e. pays before collecting the item from store.

PC World use a generic service of 'Order & Collect' to cover both its in-store reservation ("Reserve Collect"), and collect in store ("Pay & Collect").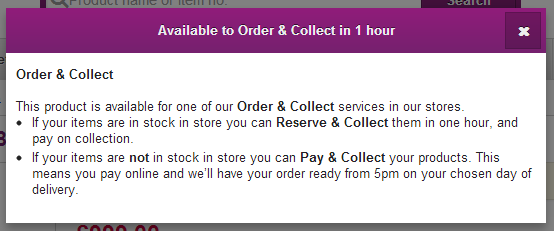 To help your customers make sure that collect in store and reserve in store services are clearly explained to the customer and when the item will arrive in store.