Recently I visited Columbus, Ohio to attend the Operations Summit. While I was there I took the opportunity to look around online and in the retail stores to see whether there were any tips and tricks that enhance the overall fulfilment customer experience and could be usefully applied by UK retailers and shippers.
Before I go on, it goes without saying that geographically, the US is  a huge country. The country occupies an area of about 9.8 million km²  and is on average about 4800 km across. As a point of comparison, the UK is slightly smaller area than the state of Michigan – but with over 60 million people.
In the US, the retailer's ability to offer of a competitive shipping options (or what the UK calls 'delivery options') is a significant logistics and cost management challenge. And even though many retailers and shippers are based in the Mid West states in order to reduce shipping costs and delivery times, the delivery expectations are still fairly broad with standard shipping being anywhere up to 5-10 days from despatch and expedited shipping still being in 2-5 days. 
Shipping or delivery charges are expensive for the customer  –  compared to what we see here in the UK. Here is an example from Backcountry.com, which displays the offer: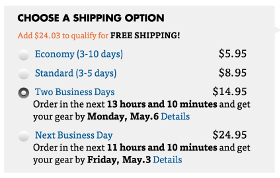 Due to the high level of shipping charges, many retailers experience a low customer uptake on anything but the lowest priced shipping option.
However, US retailers do have innovative ways to offer shipping to enhance the overall fulfilment customer experience but also to drive sales and customer conversion. Here are some of the main ways:
'Free Shipping' is pervasive – and comes in many guises
Free shipping is THE benchmark delivery option that most retailers and online shippers offer in some form. And many view it as a necessary evil and the price of being able to compete. The art of defining the right free shipping offer was a hot topic at the Operations Summit.
The relatively high cost of delivery and the customer unwillingness to pay has meant that creating a cost effective free shipping option is the most compelling driver for customers – even more so than being able to deliver next day or choose a more convenient shipping option. And free shipping is expensive to the retailer and indeed can be a loss making proposition if offered across the board. However, depending on the retailer's business model, there were actually a number of different free shipping propositions and customer incentives  in order to get the best out of it.
Cabelas offer free shipping on a specific product category:

Backcountry.com offer free 2 day shipping for spending  an order threshold: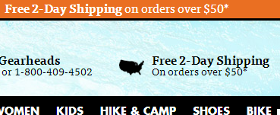 LL Bean makes free shipping with no conditions or catches part of their proposition:

Also retailers offer delivery subscriptions and memberships programs as a mechanism to offer free shipping while mitigating potential loss on margin. 
There were some retailers that refused to offer a free shipping option – however this was more likely where they sold unique products or their competitors did not offer it.
Memberships and delivery subscriptions
Paid for retailer specific memberships and Amazon Prime type delivery subscriptions were offered by some retailers, as a means to offer a free shipping option, with cost recovery on the subscription payment and the added benefit of customer loyalty.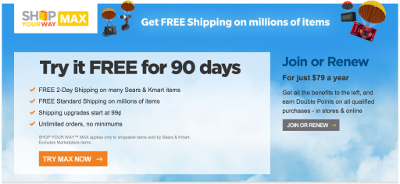 Interestingly, another type of delivery subscription emerge that is not provided by retailers, but by a 3rd party operator. Shoprunner  is a delivery membership company that offers a 2-day shipping (that is delivery in 2 working days) option, which is available to customers who subscribe and that shop with specific retailers that have the Shoprunner shipping option. A large number of retailers and brands offer Shoprunner, including Toys R Us, Nine West, GMC and many others.
Shoprunner option is offered on product page

Customers login to their Shoprunner account to apply the free shipping option to an item.
In addition, Shoprunner also offer it's own express checkout that can sit on the retail site, alongside the retailers own checkout process.

This has the added benefit of using the customer's Shoprunner specific payment and delivery details thus reducing the time in the checkout.
Customer reward programs offer special customer service privileges
Reward programs are commonly offered by US retailers, either with free membership, paid for membership or as part of a reward or store card program. Each retailers has it's own configuration for their program, for example offering a combination, points/rewards, discounts on purchase, free shipping, discounted shipping options, free returns or extended return periods.
Here is one example from Target: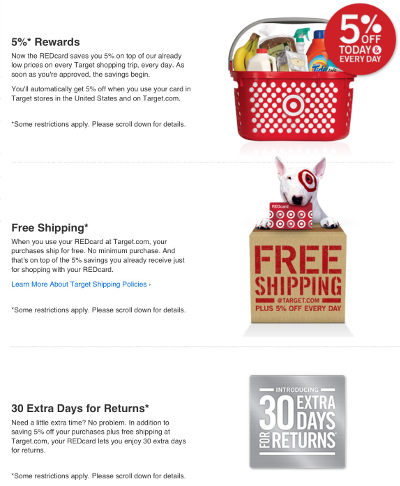 Return periods are extended …. or unlimited
This is applicable for those who maybe considering opening an online channel in the US.  Unlike in the UK, the US has no comparable Distance Selling Regulation, so retailers are not obligated to provide any free return shipping option for items, and a handling charge may also be deducted from the refund. Also, there is a tendency for retailers to offer customers an extended period in which to return unwanted items for refund, typically 30 – 90 days. And in some cases the returns period was not stated or it was indeed an unlimited period.
The business rationale for offering an extended returns period varied considerably, and depends on the business model, for example to : match competitor return offering, increase customer trust in the brand or reduce customer hesitancy to buy.
If you know others who might be interested in this topic, then please feel free to share it!
---