Managing stock availability is critical to success to overall product and sales performance – whether online or in store – because if the product isn't in stock, no one can buy it!
Products go out of stock for a variety of reasons: specific promotion, media publicity, weather related purchases, poor forecasting/buying accuracy or perhaps that the product discontinued or superseded by a newer model.
By managing how the stock availability message is presented to the customer – whether the product has low or diminishing stocks, or has simply run out of stock – you may be able to retain a sale or to persuade your customer to buy at a later date.
Key to making stock availability messaging work is to ensure that there are regular stock updates from the warehouse to the websites. Some retailers provide a regular stock levels feed to the website; others will do a real-time stock check to the warehouse to check what stock is available to promise.
Tied to this is what message do you want to present to your customers: a simple in stock / out of stock message? Or a tailored message and call to action based on stock levels?
Using real life examples, here are a number of ideas that can help you to make stock availability more clear to your customer and prevent site abandonment due to product availability issues.
Advise stock availability at the earliest possible in the browsing process
There are two logical places to present stock status to a customer, and this depends on the type of product and how it is merchandised.
Product List Page
Being able to view whether a product is in stock or not from the Product List Page enables the customer to factor availability information into the overall purchase decision.
An example of a retailer that presents availability information on this page is Mothercare: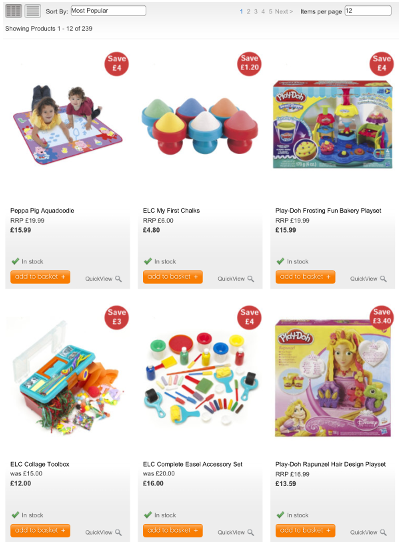 Product Details Page
For products with styling options, e.g. colour, size, composition, etc, it is much simpler to present style level stock availability information on the Product Details Page.
In the example from the shoe retailer Clarks, colour and icons is used to highlight which items are in-stock vs. out of stock, with matching call to action buttons: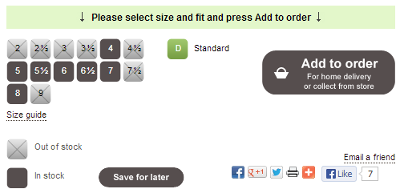 Many retailers used a drop-down to provide the stock levels by size, like M&S. However, they could have benefited with creating an air of urgency about purchasing. Ironically when I revisited this page 12 hours later, they had apparently sold out of the size 18s – so a  call to action would have been a great help to those considering purchase!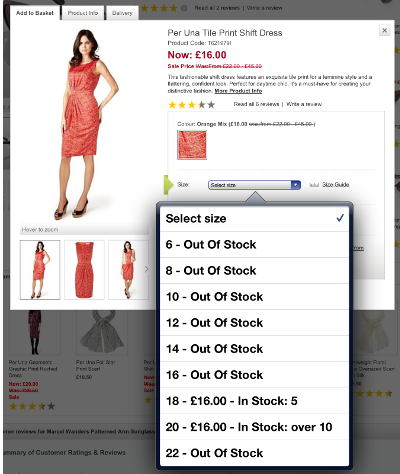 Use appropriate wording to persuade your customer to purchase sooner rather than later
Using a call to action to persuade your customer to purchase when stocks are low is a good way to convert an unsure customer.
A good  example is Whistles, which indicates stock status by each product size (using colour coding) and then reinforces the message using dynamic changes in presentation of the information on the depending on the selected size:
Sizes in stock do not have a colour code (although the selected size is highlighted in yellow)
Low stock highlighted in pink, with a call to action
Out of stock warning message, with add to basket function hidden
Amazon also uses the Product List Page to also advise of the stock levels on items, with a call to action for the customer: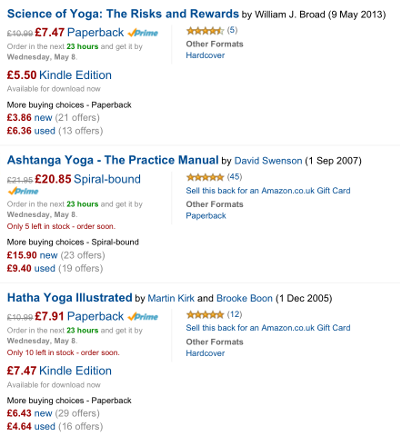 When products go out of stock, given indication of when or if the customer will be able to order the product from your site in the future
It is frustrating for customers to find the product that they want, from the retailer they want, to discover that it is out of stock. Retain goodwill and future customer by providing information about when an out of stock item is due back in.
Provide a date as to when the item is due back in stock
Presenting a date as to when the items will be due back in stock, can be helpful to the customer although can be difficult to present, especially when dealing with multiple sizes or colours.
White Company keeps it simple: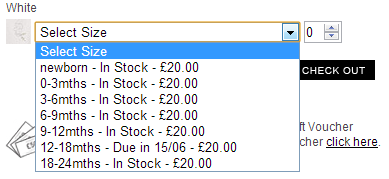 Chain Reaction has a similar approach with mountain bike shoes, combined with an option to email when back in stock: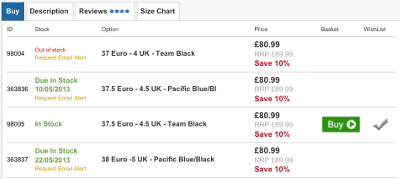 Enable the customer to request notification when the item is back in stock.
Customers who find an item out of stock quite often want to know when it will be due back in stock – particularly if is a unique item. However, it may not be practical or desired to publish a due date for items back in stock.
Therefore a mechanism for the customer to be notified when the product is due back into stock will help to allay the immediate frustration, as well as create an opportunity to contact the customer in the future.
Tesco and Mango
Indicating if the product is discontinued or simply out of stock (with more coming soon)
Prevalence of product pages with stock that has been discontinued can be significant as retailers seek to draw customers to their sites through organic search. So it is important to clearly distinguish for the customer whether the product has been discontinued or whether it is simply out of stock – the latter which may give customer hope that it will be back in the future.
Evans provides information about which style of a given product is in stock and which have been discontinued. This prevents likelihood of customer disappointment and fruitless inquiries into customer services about when an item will be back in stock.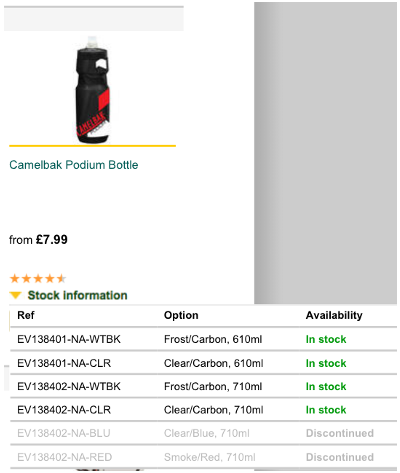 If you know others who might be interested in this topic, then please feel free to share it!
---