This is a first in a series of 'road tests' of a UK retailer's online channel and the overall fulfilment customer experience. Aspects that affect the overall customer experience are reviewed, including: product pages, online help and FAQs basket, checkout, fulfilment, delivery and customer returns processes.  Zara.com was reviewed in the last two weeks of February 2013.
I chose Zara simply because I found a blazer that I wanted and had heard that they had opened their flagship London store, which I wanted to visit.
So I got on my iPad, Googled Zara to get to their UK site and quickly found the blazer that I was after.
Product page, delivery options and returns policy
Zara's minimalistic and monochromatic Product Page  focussed primarily on presenting the product. All other information (production composition, delivery and returns) was located within a links, which when activated, opened a pop-box within a subtle full-screen overlay.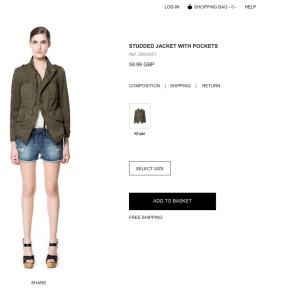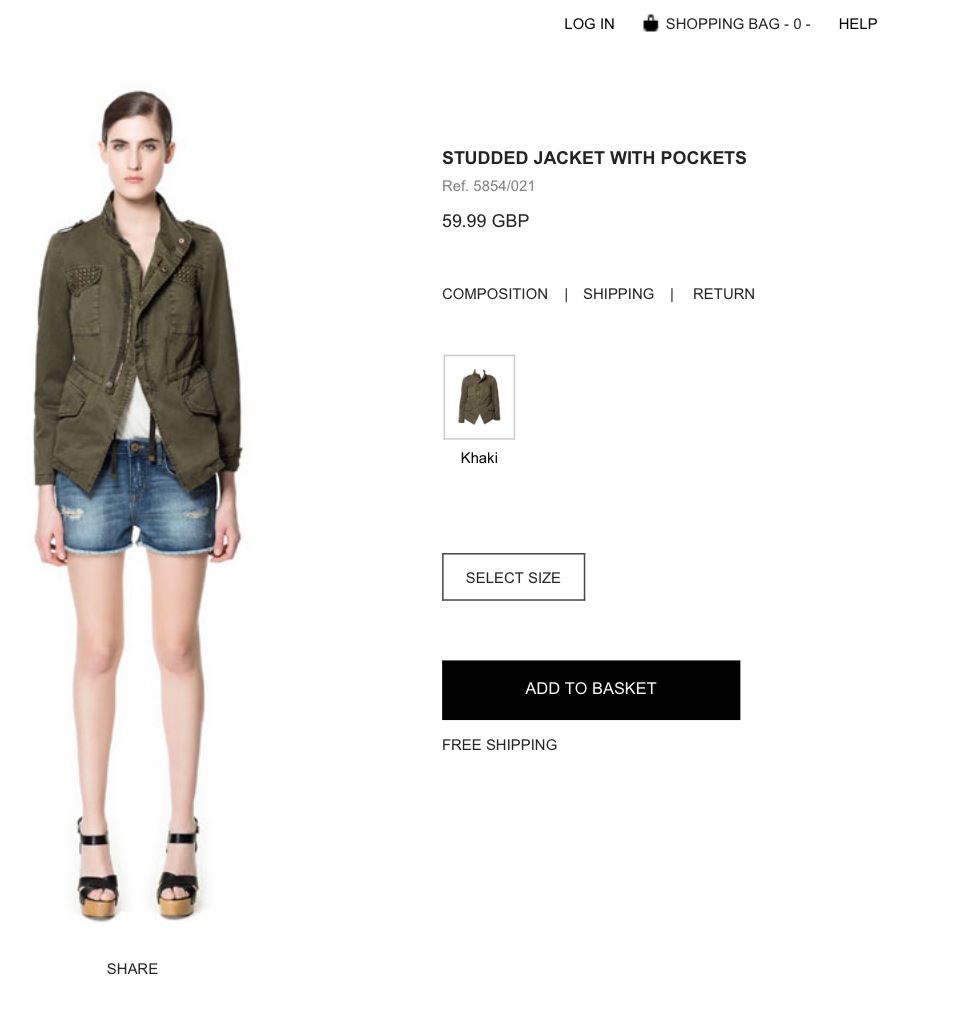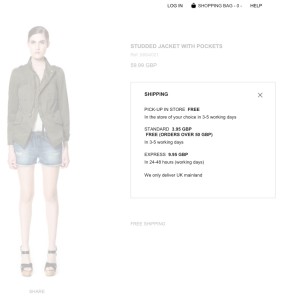 Zara has a good range of delivery options, including free standard delivery for orders over £50, and free pick-up in store for all orders.  However I found the "express" delivery option with a wide delivery window of "24-48 hours" at £9.95 is quite expensive – especially compared to other retailers.
It was only when I returned to the Product Page later that  I noticed that Zara actually advertise "Free Shipping" on their Product page. However it wasn't all that noticeable due to it's location below the call to action button of 'Add to Basket'.
The returns policy is clearly explained on the Product Page, again with the use of a pop-up box and overlay. Good news is that Zara offer free returns to store or free collection from home, which reassured me to go ahead and commit to making the purchase – particularly as I wasn't sure if it the item would fit or not.
The use of interactive 'Add to Basket' black button which then become grey after the action had occurred and then the 'Process Order' button appears is somewhat confusing. Especially if you are considering ordering multiple sizes to ensure fit.
Delivery and returns Information and policies
In the footer of Zara site were quick links to information about delivery, returns and exchanges, all which was easily accessible and in customer friendly language.
With regard to delivery, an indication of the last cut-off time for ordering and the timing of when the order could be despatched would have helped me to estimate when my order might arrive at my house, given the broad delivery windows.
Basket and checkout
On the Shopping Basket page the estimated shipping costs were presented as £0.00, which is to be expected as my item cost over £50.00.
However on trying other items less than £50.00, the shipping costs are always zero as it assumes that the customer will choose to Pick-up in Store, as it is a free shipping option.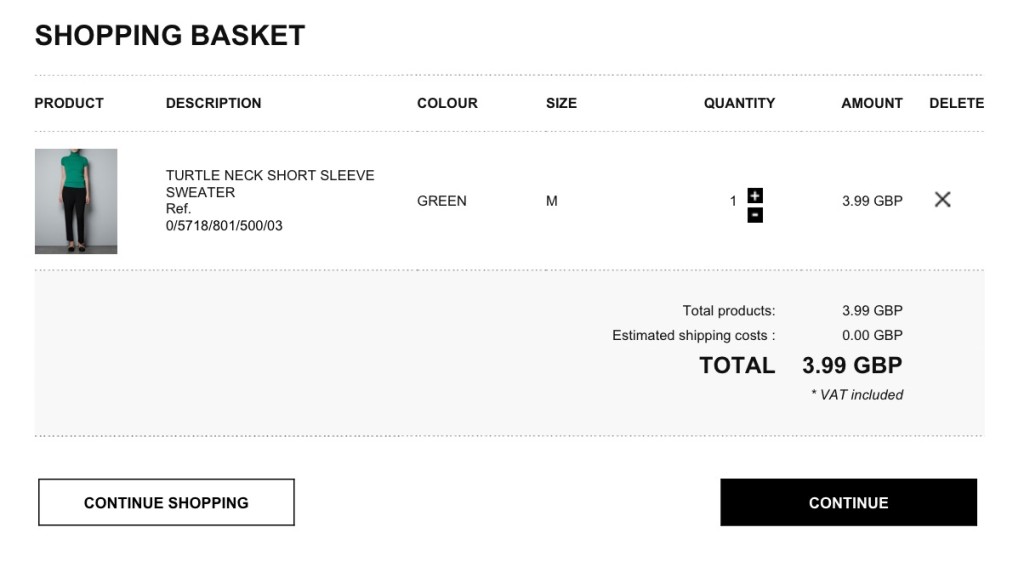 However Zara needs to consider whether using to use the free shipping option as a default to estimate shipping cost is actually helpful to their customers, as they may not necessarily consider pick-up at store the most convenient option for them.
On proceeding to Process Order, the available Shipping options were displayed that were relevant to my home delivery address.

The only improvement I would suggest is to clearly state whether the order is over the threshold for free home delivery or not. At this stage, I had to go back a step to the basket to check whether this is the case or not.
Order confirmation and tracking
Zara were pretty attentive with the communications, as I received A LOT of messages by both email and by text, some of which were confusing in nature as they appeared to be from different places.
Firstly I received an Order Confirmation email immediately after order confirmed that Zara had got it.
The following day I received a SMS message from a random mobile number telling me that my Zara parcel was due to be delivered next day by DPD, complete with indications of the timeslot and with options to change delivery to another day if I wished.
In addition, DPD also sent me an email with the same type of message as SMS and also the ability to 'Track Parcel' – which took me to the DPD site to see where my parcel was at.
DPD who are leading the market with customer service led developments for home delivery now have a nice bar which shows you where you are at.

An hour after the DPD email, I received an email from Zara which explained that I could track my parcel by clicking a link, which then took me to another website, Aramex.com which had my parcel's tracking information.
The day after (expected delivery day), I received a text from a different random mobile number telling me that my Aramex shipment was out for delivery. No mention of Zara on this message and if I hadn't seen the email from Zara, then I would have no idea who Aramex are.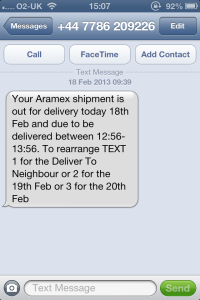 An hour later I get an email from Zara saying my parcel was on its way.
In all, I received 4 emails and 2 SMS messages about my Zara home delivery. Phew!
And as it turns out, I actually received a next working day delivery for my item, when it was a 'standard delivery'.
Delivery to Home
Home delivery was painfree. The parcel arrived on time (courtesy of DPD) and once I pulled the sealed plastic covering from the Zara box and opened it, to find my blazer nicely wrapped in tissue.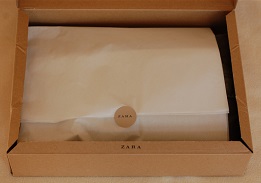 Collect from store
I also had another order for (as Zara brands it) pick-up from store.
For a retailer that offers free pick-up in store for all online orders – so therefore could expect a significant number of parcels – the pick-up process was a daunting experience. I arrived at the Regent Street store at 6pm on a Friday night to find that there was no signage of any kind indicating where to go for my store pick-up. And the queues for the payment desks were more than 20 customers long! (if you have been to a Zara store when it is busy, you will know what I mean).
So I went to the helpful looking security guard at the front of the store, who told me I had to go to the side of the payment desks and try to get one of the sales assistant's attention for them to help me.  This seemed somewhat odd. So I approached the side of the desk, where I found another member of staff was busily writing in a notebook. However when I was asked him for assistance, he too advised me to get the atttention of one of the (very busy) sales assistants who were attending customers at the payment desk. At the risk of incurring the wrath of the entire queue and as the next customer approached the desk, I waved at the nearest assistant to say I wanted to pick-up my order. To her credit, she was able to multi-task enough to call over another assistant and request that they retrieve my parcel. In less than two minutes after the 3rd assistant had taken my details to fetch the parcels, that I had the parcel in my hands. After verifying my identity and with an offer of being able to open the box to check my item (which I declined), I left with my parcel.
The in-store order pick-up experience was a disappointment. Zara needs signage in-store directing customers to a designated place to await assistance and a more structured process for dealing with customer pick-ups.
Customer returns
Customer returns were a relative doddle. I could arrange a pick-up from home, when I logged into my Zara.com, or I could return the item to store for refund, where the returened item was accepted in store as a return, and an email notification was received that night confirming that the return had been accepted by Zara.com and I would receive a refund within 14 days.
Road test summary
Zara did some things really well: free returns, free delivery and a really informative website. The packaging was great and made feel pleased that I had ordered from Zara.
However, there is room for improvement.
Delivery options should be reviewed to make sure they fit the needs of the customer. Contact points with the customer need to be clarified and rationalised to avoid confusing the customer. And the pick-up in store process needs some structure with clear signage and designated staff to be proactive in making the customer feel more valued when they walk into store to collect their Zara order.