It has been clear that Amazon has had a significant impact on UK retail. With its extensive range of products (in the region of 190 MILLION products), almost every retail category has been impacted by Amazon's presence in their market.
But it is not only product and price that make Amazon's proposition so compelling. Amazon makes it so easy for customers to buy from and also provides high levels of confidence with regard to product delivery. These are two hurdles that all retailers must overcome in order to successfully compete with Amazon and is now the benchmark for all who sell online.
However in examining Amazon's key points of difference, there are lessons that any retailer can use and apply to their own businesses. Let's take a look:
Refined omni-channel experience
On all types of devices – tablets, mobiles, PCs – Amazon have tailored the shopping experience for each so that regardless of platform, the customer is able to shop in the way that best suits the platform. Key functions such as search, browse, basket, checkout and my account are adapted to the platform on which it is being viewed. This means that customers are not inconvenienced or frustrated when using a specific device to shop.
Delivery expectations excite the customer and persuade them to buy
Amazon's delivery expectation is clear to any consumer that is heard of them. They will get what they want and fast.  On every product page, items that are sold by Amazon or fulfilled by Amazon have an indication of by when a customer might receive the item.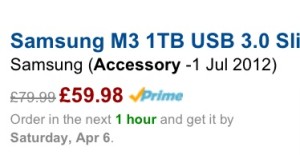 This creates anticipation and excitement in the mind of the consumer so that they are already thinking about what they could do with the product when it arrives..
Every step in the customer's journey through checkout adds value
Every step in the customer journey through checkout is considered so that every step helps the customer towards making a purchase.
The biggest improvement is that as soon as the customer starts to "Proceed to Checkout", all default information is provided from their account, so that the checkout simply displays the proposed order, delivery and payment details, rather than the customer having to specifically input or select options. The only thing that a customer has to select is the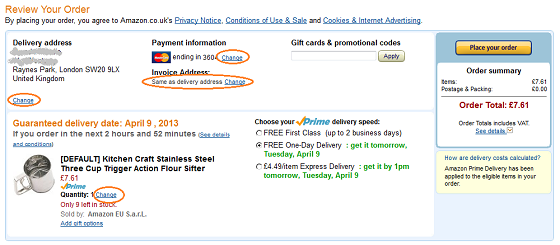 Obviously this applies to existing customers. For new customers, information is checked on validated and verified on entry, thereby avoiding later problems and also ensuring data quality for use next time.

1-Click ordering
For customers, 1-Click ordering eliminates the hassle of creating the order – completing the address, entering the card details, reviewing the order. The customer's default settings are assumed, so that a customer order can be created with one button click.I want it, I can have it, with none of the distractions that may put a customer off ordering.
For repeat customers, particularly those in a hurry and at Christmas, it means that the customer can order on the move with the least amount of effort.  Combined with a Prime subscription (see below), Amazon effectively reduces the buying decision down to whether the customer really wants the product or not.
Delivery subscription
Amazon Prime, Amazon's free next day delivery service serves three key purposes. Firstly, it eliminates the customer's resistance paying for a premium delivery services by offering it for free.
Secondly, once customers have invariably paid for the services, it locks customers in so that when they need to buy something, then Amazon will be the first port of call, because they have free next day delivery. And even then, you can up-sell the premium service (see below).

And finally, customers want to get value for money from their prime subscription, so they are likely to buy more often. Loyalty reaps dividends.
If you know others who might be interested in this topic, then please feel free to share it!
---